Cloud Landing Zones: To Help Drive Business Growth
This article explores the cloud landing zones that insurers need to focus and secure the technology capabilities in the insurance industry.
What is a Landing Zone?
Landing zones are the building blocks (services, processes, etc.) that every successful strategy for moving to the cloud needs. You can think of this as building a new house. You need to have all the materials ready before you start assembling. In a landing zone, you select the guidelines or parameters that will be used to determine how to govern your data and applications in the cloud. 
So we can define a landing zone as a pre-configured environment for hosting your workloads in private, hybrid, or public clouds that is set up through code. Here, your business can confidently launch and deploy workloads and applications while maintaining and strengthening your infrastructure and security. Building a landing zone requires technical and business decisions about account structure, networking, security, and access control that fit your organisation's growth and business goals.
Especially for financial services and insurance companies, infrastructure must be both safe and legal. They must also comply with a growing number of regulations. Manual processes for checking compliance with requirements and cost control not only restrict the speed of deployment but also don't encourage a high-speed environment for experimenting and learning. Tech-savvy insurers are addressing this through the adoption of landing zones. This allows them to centrally govern and control how their teams use the cloud.
Not only that, but they also help set up the first cloud environment by giving a defined design, reference implementations, and code samples. By always using a set of common design areas, this environment will help all other attempts at adoption. One can centralise resources such as identity management, resource organisation, costs, and so on.
Let's explore the landing zone types offered by all major cloud service providers.
Azure Landing Zone
An Azure landing zone is a multi-subscription Azure system that looks at size, security governance, networking, and identity. An Azure landing zone makes it possible to modernise, improve, and move large-scale business applications to Azure. This method does not distinguish between infrastructure as a service (IaaS) and platform as a service (PaaS). Instead, it considers all the platform resources needed to serve the customer's application portfolio.
There is no single solution that works in all technical contexts. There are a few ways to set up an Azure landing zone that can help you meet your growing cloud portfolio's deployment and operations needs.
There are two types of Azure Landing Zones.
Platform Landing Zones: 

Subscriptions set up to provide centralised services that will be used in a variety of workloads and applications. These services are frequently run by a central team or the number of central teams divided by function (such as networking and identification). Platform landing zones are substitutes for important services that benefit from consolidation for effectiveness and operational simplicity. Networking, identification, and management services are some examples.



Application Landing Zones: 

One or more subscriptions that have been set up as a workspace or application environment. To make sure that policy restrictions are properly implemented, application landing zones are positioned in management groups like "corp" or "online" beneath the "landing zones" management group.
You can change the Azure landing zone implementation options to fit your needs, whether you're starting your first production application or managing a complex portfolio of tech platforms and workloads.
AWS Landing Zone
AWS Landing Zone helps companies set up a safe, multi-account AWS environment more quickly. With so many design options, setting up a multi-account environment can take a long time, involve configuring multiple accounts and services, and require a deep understanding of AWS services. This solution can save time by automating the process of setting up an environment for running secure and scalable workloads and creating core accounts and resources to set up an initial security baseline. It can save time by creating core accounts and resources to set up an initial security baseline and automating an environment for running secure and scalable workloads.
AWS Landing Zone uses the AWS Account Vending Machine (AVM) to set up and configure It serves as a framework for cloud adoption that enables you to assess your current position and potential paths to the cloud. new accounts automatically. AWS Single Sign-On is used by the AVM to handle user account access. Through a landing zone configuration and update pipeline, customers can set up their own account baselines in this environment, which can be changed to fit their needs.
Google Landing Zone
The Google Landing Zone helps you scale Google Cloud services more securely. As your company gradually embraces more cloud-based workloads, landing zones become dynamic and expand.
Once the initial configuration of your organisation is complete, you can deploy a landing zone. An organisation resource must be created, along with a billing account that can be either online or billed.
A landing zone includes multiple domains and various components, such as identities, resource management, security, and networking. This enables end users to quickly, securely, and effectively use the fundamental cloud resources (such as creating a Google project, deploying workloads, or using services). Projects and workloads will be delivered through a landing zone that adheres to the concepts of the Google Cloud Architecture Framework.
Why Do You Need Landing Zones in Your Business?
Landing zones give the management team a place to focus, and by defining long-term success, they boost motivation at all levels of an organisation.
Often, it might be challenging to close the gap between short-term strategic goals and the long-term perspective. Landing zones address this by formalising the objectives of a company. Leaders use these objectives to determine management priorities, strengthen communication, and anchor annual goals.
Adopting a cloud landing zone has several benefits. It serves as a framework for cloud adoption that enables you to assess your current position and potential paths to the cloud. It leads you through a structure you may use as the basis for cloud migration. It enables you to pinpoint crucial tasks and objectives that will improve your cloud journey. The landing zone helps you beyond cloud migration and adoption by
Speed and scalability
Security and compliance
Flexibility in scaling the landing zone environment
Better cost optimisations
Applications status visibility
Cloud Landing Zone lifecycle
Everyone wants to "get to the cloud," but doing so isn't always simple. Create a cohesive approach first, so you don't move to the cloud blindly or become overwhelmed by too much information. Paying attention to the cloud landing zone lifecycle can create an effective strategy for your business. A cloud landing zone's lifecycle is based on three variables:
Design

Deployment

Operations
Software engineers often use the following phrases to describe the lifecycle of a system: 
"Day 0": Specifications and design
"Day 1": Development and deployment
"Day 2": Maintenance and operation
Generally, it's the same when adopting cloud landing zones.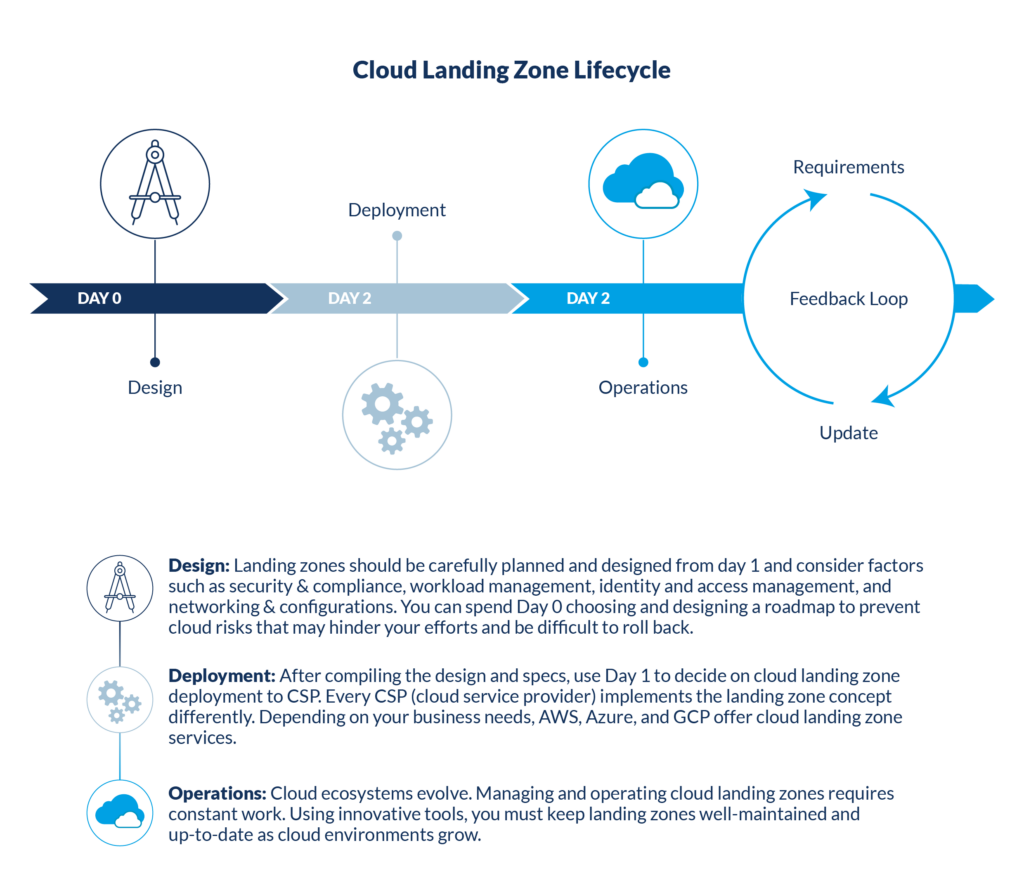 Therefore, it is always recommended to keep the following best practices in mind during these phases.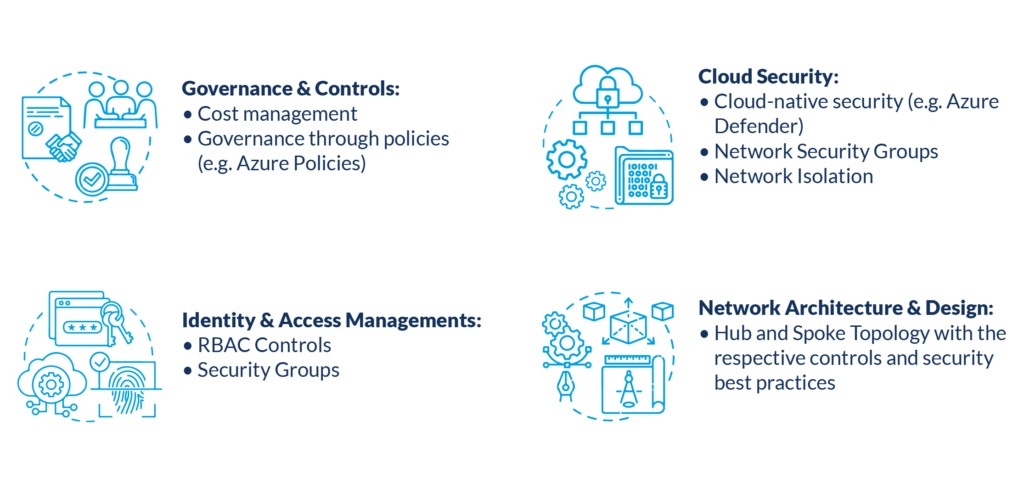 Why Landing Zones are Important, Especially for Insurance?
For UK and EU insurers, maintaining a balance between innovation and security is crucial. The threshold for security must be raised as complex security threats emerge. Regulations are also a factor to consider. Just recently, the UK established a National Cyber Advisory Board. Under the umbrella of the £2.6 billion National Cyber Strategy, they're spearheading a push to encourage firms to increase their security measures. The National Cyber Security Council (NCSC) says that businesses need to take more steps to protect themselves from cyberattacks.
Getting your teams proficient with cloud technology can be hard, especially if your business doesn't have the staff or cloud expertise to set up the cloud infrastructure correctly and quickly. The environment may be hard to keep up with and secure because of the hundreds of accounts (AWS) or subscriptions (Azure) and their resources. But this issue is quickly resolved by using cloud landing zones.
Although not a golden bullet, landing zones give you a clear plan for how to operate your cloud, which helps improve the security and speed of delivery. They give you the best cloud foundation, whether you want to speed up your cloud migration or get the most out of your new cloud transformation by centralising security and governance. Most importantly, it's an enabler for agility and innovation through experimentation with cloud native services.
Azure Landing Zone Use Case
A UK's leading savings management platform wanted support adopting an Azure-based infrastructure. Their Azure landing zone has undergone an assessment, and they needed Codification to advise on a future state and roadmap for their cloud strategy.
In this case, Codification was able to provide a more in-depth review of the customer's landing zone and a more in-depth analysis of what was found in the current state analysis report. We worked with the technical stakeholders to identify key areas of focus, concerns, and opportunities for improvement. As a result, Codification was able to perform further analysis and recommend a target state for the customer's landing zone, as well as best practises for:
Governance & Controls
Cloud Security
Identity and Access Management
Network Architecture & Design
So How Codification Can Help You Succeed?
We are specialists in hybrid cloud container strategy and implementation. We will work with you to help define your relationship with the cloud, including your approach and toolset, and map out the expected costs and benefits. At Codification, we set the direction of a company's journey toward becoming cloud native and help them implement new technologies and processes.
As you identify and assess your current business needs and capabilities, Codification will help you choose an appropriate pilot that blends in with the rest of your portfolio. In order to effectively use the strategy and the approaches, we will assist in the design and implementation of the pilot, and then guide you through those governance processes. Accordingly, we can help with planning, implementing, and managing all aspects of your system. We operate on a "no surprises" basis to ensure that you are comfortable with our approach and receive the best possible outcome.
In addition, we'll define a roadmap and recommend the best resources and tools to get you to your desired state. We have built governance frameworks, next-generation platforms, and automated code pipelines for global organisations in various industries, ranging from banking and insurance to enterprise software.
Governance & Compliance
We have extensive experience in governance and compliance, particularly in the leading insurance sectors. To ensure adherence to your governance and compliance controls, we will collaborate with your staff. Our portfolio of architecture and service definitions, whose baselines have already been achieved in the insurance domain and are fully conversant with regulations concerning GDPR and PSD2, for example, are adaptable to your needs.
Credibility
Codification's relationships with more than 45 global enterprises, including multinational corporations, government agencies, and software giants, have helped transform them into cloud native organisations. Our extensive partnership network keeps us at the forefront of cloud technologies, ensuring that our clients receive the highest industry standards.
Summary & Next Steps
There's no doubt the cloud landing zone provides you with a clear operational framework that helps improve the quality and speed of service delivery. By giving you complete cost control, enhancing network resilience, and improving governance, a landing zone provides the ideal cloud foundation, whether you want to speed up your cloud migration or are adopting the cloud for the first time in your business.
Codification's expert team of consultants and cloud native specialists are ready to help you achieve your goals and get the most out of your IT investments. We will identify key stakeholders and merge them with your team in a comprehensive and cross-functional manner that allows the teams to work together seamlessly. We will also help you develop the skills you need to successfully implement, modernise, and transform your business into a digital-ready organisation.
Interested? 
Contact us to help you get started on your cloud transformational journey.